Keep Warm With This Virginia Brunswick Stew Recipe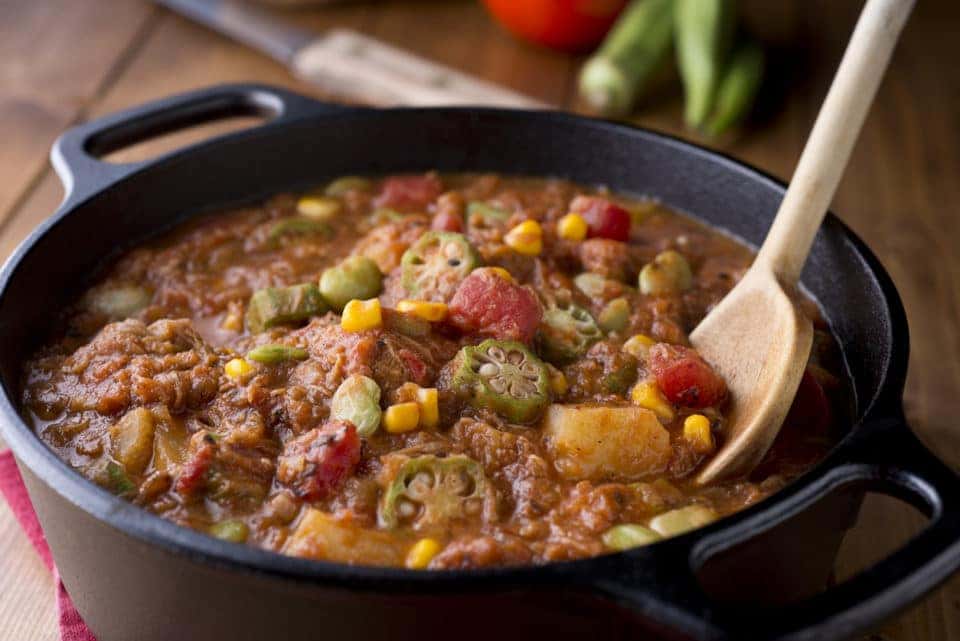 As the weather starts to cool down, you might find yourself searching for a hearty recipe to warm you up at the end of a brisk fall day. Look no further than this Virginia-Style Brunswick Stew Recipe. Filled with chicken and veggies, there's nothing more comforting than a hot bowl of Brunswick Stew.
Tools
Brunswick stew is simple in all ways, including the kitchen tools you need to successfully prepare it. For this recipe, you'll need:
Chef's knife
Cutting board
Dutch oven or heavy-bottom stockpot
Ingredients
The beauty of Brunswick stew is that the ingredients list is fairly short for homemade soup, and you probably have many of these ingredients on-hand already. All of the canned or frozen ingredients can be swapped out for fresh if you can find them!
3 slices bacon, chopped
2 large onions, diced
3 cups chicken broth
28 oz. can crushed tomatoes
14 oz. can diced tomatoes
4 medium russet potatoes, peeled and diced into 1-inch chunks
1 tbsp sugar
2 cups frozen lima beans
1 can sweet corn, drained, or creamed corn
1 pound chicken breast or 3 cups cooked chicken
salt and pepper to taste
hot sauce or vinegar to taste
You might also like: Ways You Can Organize Your Garage
Method
Add the bacon to a heavy-bottomed stockpot or Dutch oven and cook on medium heat until soft and tender. Add onion, broth, tomatoes, potatoes, sugar, lima beans, and chicken breast. If you're using pre-cooked chicken, like a rotisserie chicken, do not add it at this step. Bring this mixture to a boil, then reduce heat to medium-low and simmer until the potatoes are cooked about 30-35 minutes.
Next, add the drained sweet corn or the undrained creamed corn, and cooked chicken (if using) and cook until the chicken is very soft and beginning to break down about 10 minutes. At this point, the stew should be very thick, so be sure to watch it closely to ensure it doesn't burn. Season to taste with salt, pepper, hot sauce, and vinegar. Brunswick stew goes well with cornbread or biscuits, both of which could be quickly prepared and baked while the stew simmers on the stove!
Back to Parent Page