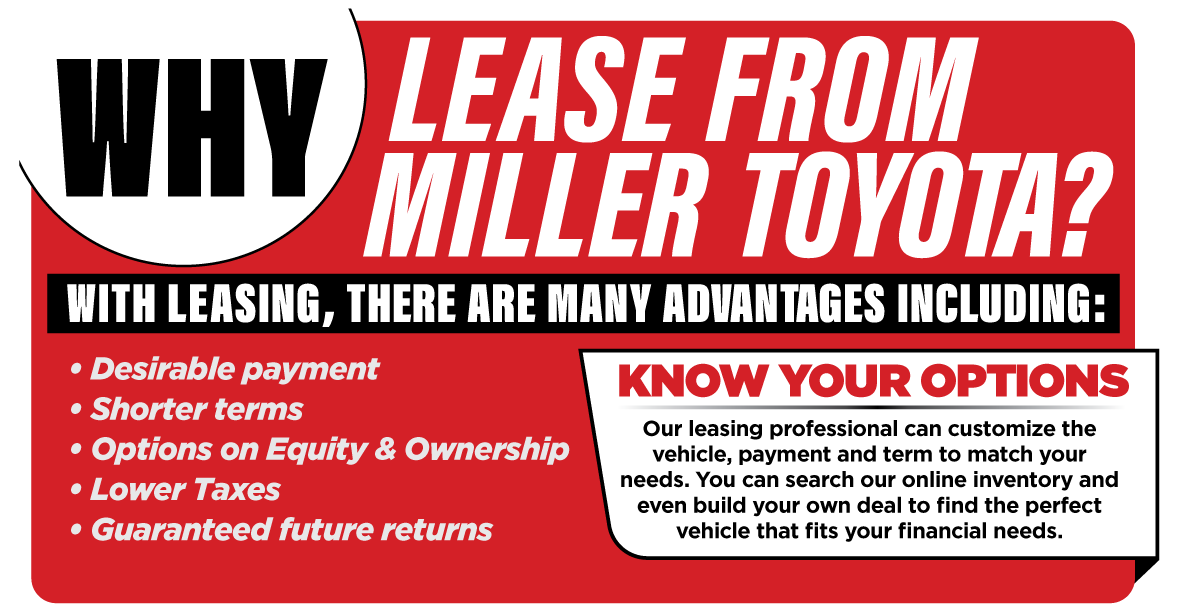 Find Toyota Lease Deals in Manassas, VA
Are you looking to lease a new Toyota vehicle? Visit Miller Toyota to take advantage of the amazing lease deals that we have to offer! Our Manassas dealership is proud to assist drivers near Washington and Arlington, VA with their Toyota leases. We provide great leasing opportunities and work to find the deal that best fits your budget. Stop by our dealership for a look at our extensive inventory today!
Buy or Lease a Vehicle in Manassas, VA
When you've found your perfect new or used vehicle at Miller Toyota, you're no doubt ready to cut to the chase and drive it home. But wait – there are just a few more details to consider. One of the main questions that face many car shoppers is whether to finance the cost with an auto loan or lease your ultimate vehicle.
At Miller Toyota, we offer the whole lineup of beloved Toyota models in their latest and greatest incarnations for sale and for lease. And if you've never leased a vehicle before, you might be wondering what it entails, and whether or not it's a good choice for you. We're here to help you decide!
The bottom line is that there's no one-size-fits-all answer. Some people are better suited for a lease agreement than others, whose financial and lifestyle needs fit better with a loan. Whichever side of the fence you land on, you're in for a great deal on a vehicle you'll love when you shop the fantastic selection at our Manassas dealership!
The Basics of Buying vs Leasing
The main difference between buying and leasing is this: When you finance a car, you're making payments toward full ownership of it. When you lease, on the other hand, you're paying for the use of the vehicle for only the duration of your lease agreement. That fundamental difference extends into some things that you'll want to consider before deciding whether you're going to buy or lease:
Lease payments are often lower than monthly payments on an auto loan.
Lease agreements usually last only a few years, so you will be able to trade up to a different car or a more recent model year of your favorite one sooner than you probably would if you owned the vehicle.
There's no sales tax involved with a lease.
End-of-lease trades are simple; all you have to do is return the car to our dealership and select a new one to lease.
You won't be able to customize a leased vehicle with accessories, window tint, or non-factory paint jobs the way you would a car that you're buying.
When you get approved for an auto loan and make consistent and timely payments, you can effectively repair or build credit.
Lease a New Toyota Near Alexandria, VA
When you're in the market for a new Toyota or a high-quality pre-owned vehicle with incredible savings attached, you'll find plenty to love at Miller Toyota. Our Manassas dealership is here to serve you from start to finish on your car buying or leasing journey. You can get started with your Toyota leasing process now. Feel free to contact a sales professional for any questions that you may have about the leasing process. Our experts will strive to get you into the Toyota vehicle that is just right for you. Would you like to apply for auto financing? You have the option to conveniently complete a credit application before even visiting the dealership.
We can't wait to get you into the vehicle you have always wanted. Don't wait any longer. Allow the experts at Miller Toyota to assist you with your Toyota leasing needs, today!