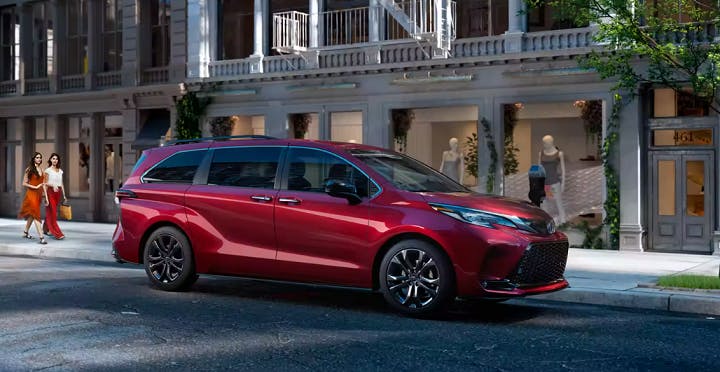 The 2023 Toyota Sienna Offers Comfort
Make driving comfortable for the entire family when you drive the 2023 Toyota Sienna. No matter if you are driving to sports games, visiting grandparents, or recitals, you and your family deserve to ride in comfort. Prioritize your family's comfort and convenience while not sacrificing on the performance you deserve. Sit back, relax, and enjoy a new kind of vehicle this year with the 2023 Sienna. Perfect for big families, families always on the go, and families who need a bit more space.
Interior Comfort
Bring your family to a new level of comfort with the 2023 Sienna. Enjoy captain's chairs with attached ottomans, a hands-free door and liftgate system for easy loading of items and your family, and 25th anniversary special edition unique seats and stitching. These little luxuries, and more, add a level of comfort that no SUV has had before. This year, treat your family to the best!
Family Convenience
Convenience for you as a driver and for your family is just as important to Toyota as comfort is. Enjoy the convenience of front and rear parking assistance with automatic breaking for those tight spots. Your family will love the seven USB ports found in the Sienna, perfect for road trips and long drives, and the split and stow third-row seats. These seats help you make more room for your kid's friends or storage, depending on your needs. These conveniences and more is what make the 2023 Sienna the perfect family vehicle!
Top Performance
Comfort and convenience are necessary for the perfect family vehicle, but so is performance. The 2023 Sienna prides itself on performance, with all-wheel drive capability, an all-hybrid powertrain, and a sports-tuned suspension available. Plus, many other features for you to explore in a top-performance vehicle! All these features ensure that the 2023 Sienna is the perfect vehicle for prioritizing your family.
You might also like: Bite-Sized Snacks For Your Next Event
2023 Toyota Sienna Accessibility
Not only does the 2023 Toyota Sienna pride itself on its comfort, convenience, and performance, but also on mobility. Through Toyota's partner companies, the 2023 Sienna is wheelchair accessible for riding and driving in your own chair with hand controls. This wheelchair-accessible conversion is what sets the 2023 Sienna apart from other SUVs.
Back to Parent Page