Add This Pot Roast Recipe To Your Meal Rotation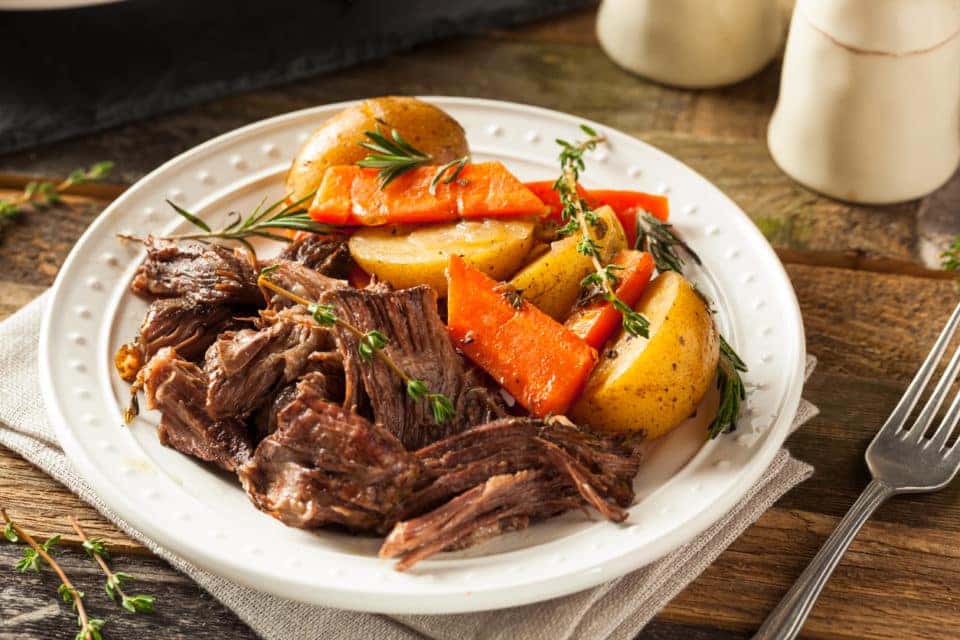 The chances are high that at some point in your life you've enjoyed a hearty meal of pot roast on a cold winter evening. This dish is such a classic because it embodies everything a winter meal should be – nutritious, filling, and oh-so-cozy. This year, add pot roast to your winter meal rotation with this delicious recipe!
Ingredients
Though the ingredients list for pot roast may seem intimidating at first, most of it is comprised of pantry staples you likely already have on hand. You'll need:
One 4-lb. boneless beef chuck roast, trimmed and tied
4 tbsp. kosher salt
6 tbsp. vegetable oil
2 large onions, cut into 2-inch wedges
4 cloves garlic, minced or finely grated
1 tbsp. tomato paste
1 cup beef broth
2 bay leaves
3 tbsp. all-purpose flour
1 cup chicken broth
1 1/2 tsp. freshly ground black pepper
7 carrots, peeled, cut into 3-inch pieces
4 stalks celery, cut into 3-inch pieces
2 pounds medium red potatoes, quartered (halved if small)
Parsley for garnish (optional)
Chives for garnish (optional)
You might also like: Enjoy A Sweet Cup Of Hot Cocoa This Winter
Method
Rub 3 tablespoons of kosher salt into the grain of the pot roast, tie and cover in plastic wrap in the refrigerator for at least 3 hours or up to 3 days. When you're ready to cook, move a rack to the lower third of the oven and preheat to 275 degrees F.
Heat 2 tablespoons of vegetable oil in a large, thick-bottomed pot or a Dutch oven over high heat until shimmering. Cook the meat until browned on all sides, turning as needed for about 10 to 12 minutes. Transfer the roast to a plate.
Reduce the heat to medium-high and add the remaining 4 tablespoons of oil into the pot, then cook the onions with 1 tablespoon kosher salt until browned but not completely caramelized, about 6 to 8 minutes. Add the garlic and tomato paste and cook, stirring as needed, until the paste is dark red and the garlic is fragrant – about 1 minute. Add the beef broth and bay leaves and cook for 4 minutes, stirring occasionally to scrape up any fond that has collected at the bottom. Add the flour and cook for 1 additional minute. Add the chicken broth and cracked pepper and bring to a boil.
Now, add the rested roast back to the Dutch oven into the broth and onions. Add the carrots, celery, and potatoes around the roast and into the onions. Cover and transfer to the oven, then cook until the meat is very tender. The roast should hold its shape but cut easily, this will take about 3 to 3 1/2 hours. Remove the pot from the oven and rest, covered, for 45 minutes before serving. Enjoy!
Back to Parent Page