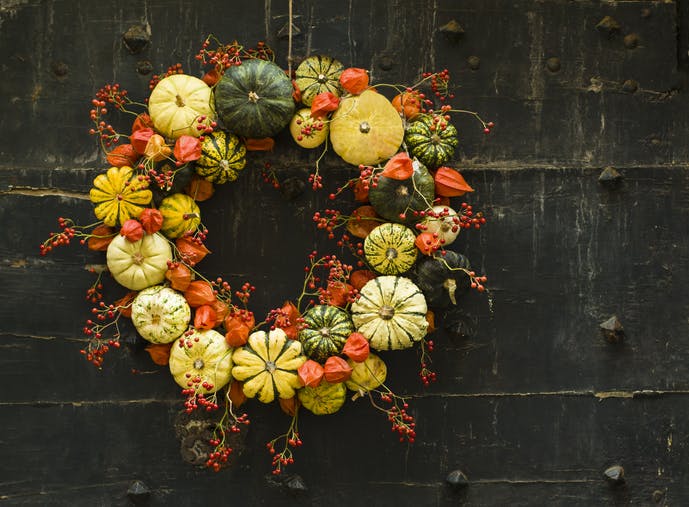 Dress Up Your Door With A Fall Wreath
You love decorating your entire house, but sometimes you can overlook the first thing your guests see - your front door. Don't leave your front door bare to welcome your family and friends. You want it to be as inviting and festive as the rest of the house, especially for the holidays. Here are five cute wreath ideas you ought to try to dress up your door.
Customizable Hay Wreath
For those who love to take an idea and truly make it their own, the Customizable Hay Wreath is a great craft for them. While the idea suggests using the word 'Boo' with a fuzzy spider in the corner, you can swap the word or spider for any other Fall-related words or objects like a pumpkin.
Ribbon Wreath
The Ribbon Wreath is another wreath where you can play around with your creativity. You can play around with various patterns like plaid or polka dots. The colors can vary as well. Maybe you're a fan of the traditional orange, red, and yellow for fall, or maybe you want to add some brown or even blue. The other perk of this wreath is that you may already have spools of ribbon lying around your home from previous crafts that you can use for this new creation.
Cupcake Liner Wreath
This Cupcake Liner Wreath is relatively simple to make. All you need are cupcake liners in two different fall colors, a foam ring, and some hot glue. With these simple supplies, you have an outstanding wreath that your guests will love.
Fall Cookie Wreath
The Fall Cookie Wreath may require time to bake a dozen or more of these leaf-shaped cookies. The end result, however, will be sweetly rewarding.
You might also like: Get Your Car Sparkling Clean
Rainbow Pumpkin Wreath
Great crafts do not have to be complicated. This Rainbow Pumpkin Wreath can attest to that. Just some mini pumpkins, a wreath frame, different colors of spray paint, and a glue gun, and you have a front door decoration that makes a big, warm statement.
Back to Parent Page