See What The Toyota Tacoma Can Do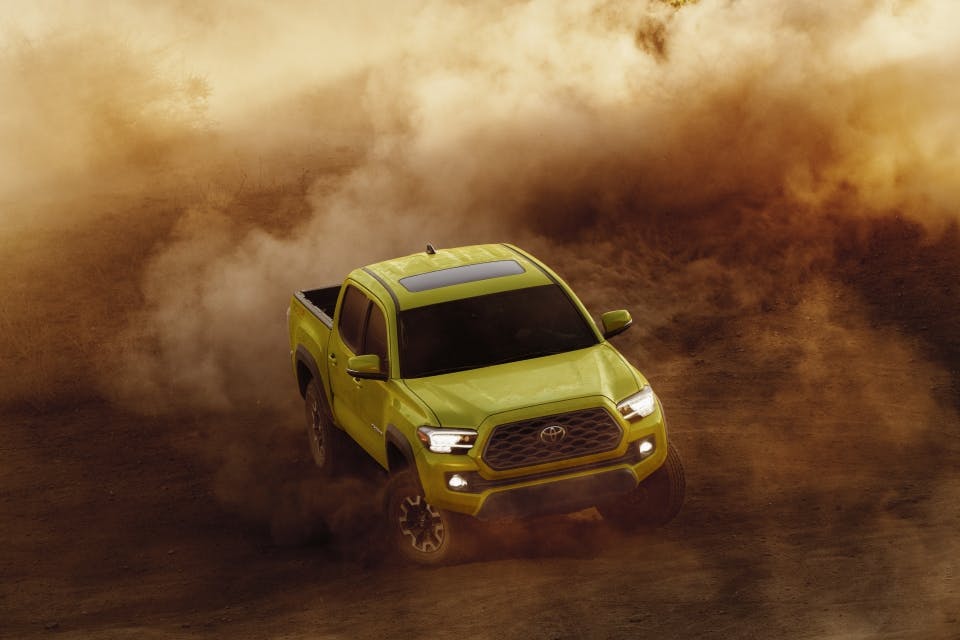 The 2023 Toyota Tacoma is a pickup truck that's built the way a truck was meant to be. It's a workhorse that can tackle city streets, highway miles, or off-roading with the same aplomb. If you're interested in blazing your own path, the Tacoma is built for you. Behind the wheel of a 2023 Toyota Tacoma, you can be confident on the road in any condition.
Power and Performance
While many will find the Tacoma's base 4-cylinder 159 horsepower with 180 lb.-ft of torque more than sufficient for their needs, drivers who want to challenge themselves in off-road conditions or who need towing strength will choose the available 278-horsepower V6 engine, which generates 265 lb.-ft of torque. Properly equipped for towing, the Tacoma can lug up to 6,800 pounds. Four-wheel drive models can tow 6,400 pounds when properly equipped. Off-road capabilities on the Tacoma are first-rate when drivers choose the TRD Pro, Trail Special Edition, and TRD Off-Road trim levels. And here's something that a lot of people don't know: The V-6 version of the Tacoma is one of only two trucks in the American market that can be equipped with a manual transmission. While an automatic transmission is standard, it's nice to have a manual transmission when you need more traction and control.
Interior Comfort
The 2023 Toyota Tacoma looks and feels like a truck should feel: homespun, supportive, and built to last. Its interior design seats five passengers, and it offers comfortable, supportive seats and a substantial-feeling ride that keeps drivers attentive and engaged behind the wheel. The 2023 Tacoma's technology package offers upgrades for the model year, featuring front lighting with LED elements, as well as a rear cross-traffic alert, parking sensors, and blind-spot monitoring so that drivers and occupants feel secure in the cabin. Ask anyone who drives a Tacoma, and you'll learn why they're one of the most popular trucks — midsize, half-ton, or heavy-duty — on the road. Once you've driven a Tacoma, it's a case of "If you know, you know."
You Might Also Like: Sweet And Savory Waffle Toppings
Do Your Own Research
Come see us at Miller Toyota and let's find the right Tacoma for you.
Back to Parent Page