The Toyota Tundra is a standout truck. Its standard i-FORCE 3.4-liter V6 twin-turbo engine delivers 358 horsepower and 406 pound-feet of torque. Upgrade to the MAX 3.4-liter hybrid engine for up to 437 horsepower and 583 pound-feet of torque. It enables the Tundra to tow up to 12,000 pounds when properly equipped.
And that's not all. The Tundra is also built to handle off-road adventures with its available Multi-Terrain Select feature. This feature offers different modes (Mud, Sand, Rock, Mogul, and Auto) to help you easily tackle any terrain.
Inside the Tundra, advanced technology and entertainment options are at your fingertips. The standard 8-inch touchscreen offers wireless Apple CarPlay® and Android Auto™ capabilities and multiple speakers. Upgrade to the 14-inch touchscreen for an even larger display. It enhances your listening experience with the available 12-speaker JBL® sound system. Ready to experience the Tundra for yourself? Check out the lease deals at Miller Toyota.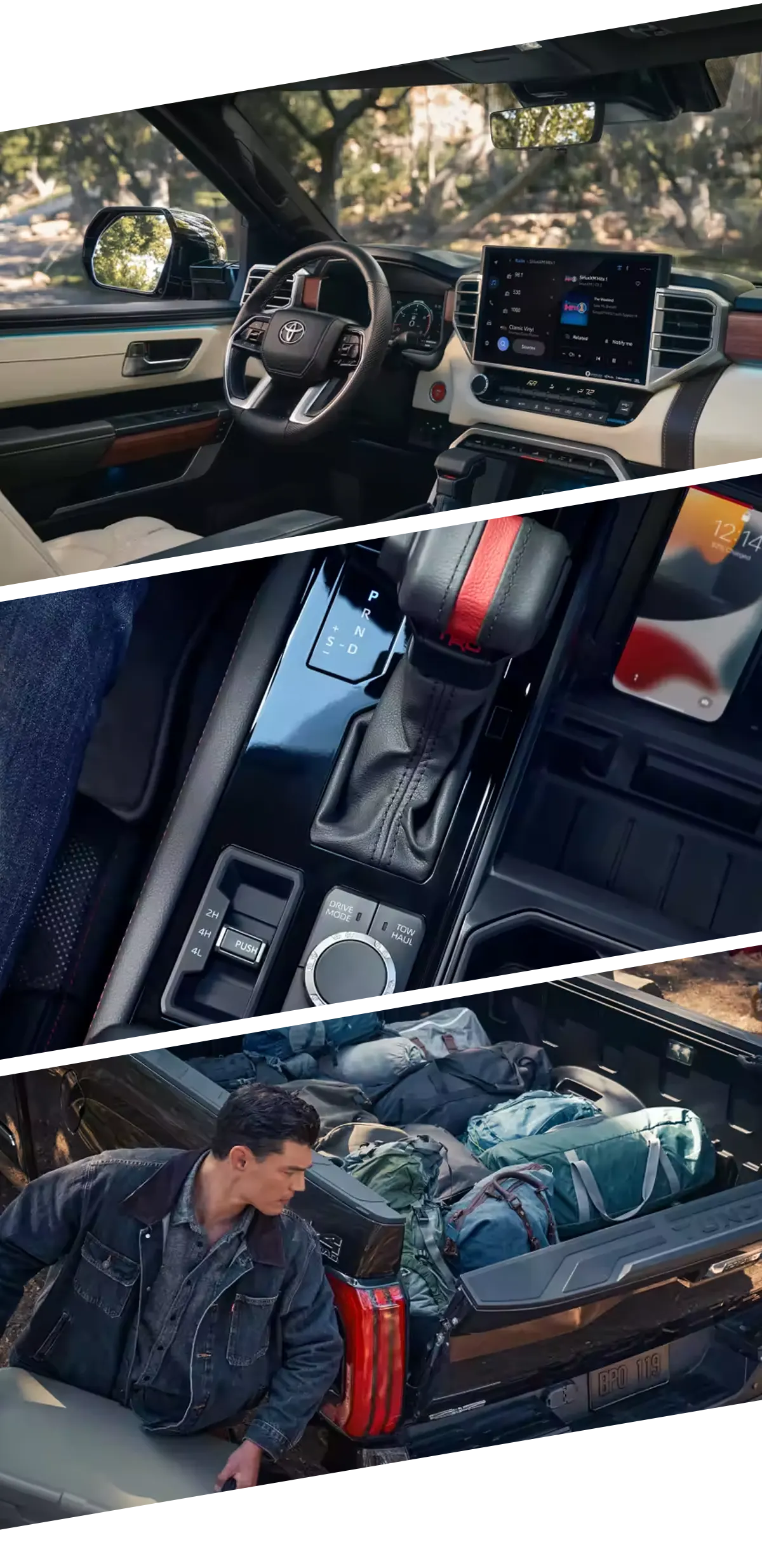 How Our Dealership Can Help
Are you excited about getting behind the wheel of a Toyota Tundra? Let our finance team help you secure the best lease agreement possible. Our process is designed to be straightforward and stress-free. We'll start by understanding your specific needs and then present you with multiple lease options.
Our team is always available to answer any questions and provide expert guidance throughout the leasing process. Once we have finalized the deal and you have made your down payment, you'll be ready to hit the road in your new Toyota Tundra.
We make it easy for you to get the lease deal you want. To get started, you can apply for credit in-person with our team or use our online credit application tool. We also offer other helpful finance resources. These include a payment calculator and the Value Your Trade tool.
Benefits of Leasing a Toyota Tundra
There's nothing quite like the feeling of driving off the dealership lot in a brand-new car. But with car ownership comes a significant financial investment, both upfront and in the long run. If you're looking for a more cost-effective option that doesn't require a large capital investment, leasing may be the way to go. Here's why leasing a Toyota Tundra is a smart choice:
1. Low Upfront Costs
Starting a new business can be expensive. This is why minimizing upfront costs is essential. Leasing a business vehicle, like a Toyota Tundra, can be a great way to achieve this goal. Unlike purchasing a vehicle, leasing doesn't require a substantial down payment. This can help you keep more cash on hand to invest in other aspects of your business.
2. Low Monthly Payments
Not only does leasing reduce your upfront costs, but it also keeps your recurring expenses at a minimum. With lower monthly lease payments compared to purchasing a new car, you can save significant money in the long run. For entrepreneurs just starting, this means more funds that can be allocated toward other critical business investments.
3. No Maintenance Fees
You don't have to worry about unexpected repair costs when you lease a Tundra. This is because most lease terms last 2-3 years. They are typically within the manufacturer's warranty period. Additionally, Toyota offers some free scheduled maintenance services during the lease term. This helps keep your operating costs low.
4. Tax Benefits
When you buy a business vehicle, you must pay sales tax on the entire value of the car. It can add up. However, if you choose to lease a business vehicle like the Toyota Tundra, you won't have to worry about this expense. When you lease, you're only taxed on the fraction of the car's value that you use during the lease period. This means that you can save money on sales tax. This can be put towards other important areas of your business.
5. Prestige and Convenience
Leasing is not only for businesses but also for personal use. It is perfect for people who want to upgrade their vehicle every few years. With a Toyota Tundra lease, you'll always have access to the latest safety features, comfort, entertainment, and convenience. You won't have to worry about missing out on cutting-edge technology and features. This is because you can upgrade to a new vehicle every few years.
6. Shorter Commitment
Leasing a vehicle can provide you with the flexibility that buying a car can't match. Toyota Tundra leases typically last for two to three years.
Get a Great Lease on the Tundra in Manassas, VA
The experienced team of Miller Toyota has been helping drivers in Manassas, VA, and nearby areas find the best lease deal for years. We're ready to help you too. Whether you're looking for a lower monthly payment or a shorter lease term, we have a variety of options available to fit your specific needs and budget. Visit us today to learn more about our Toyota Tundra lease deals.