The Miller Deal at Miller Toyota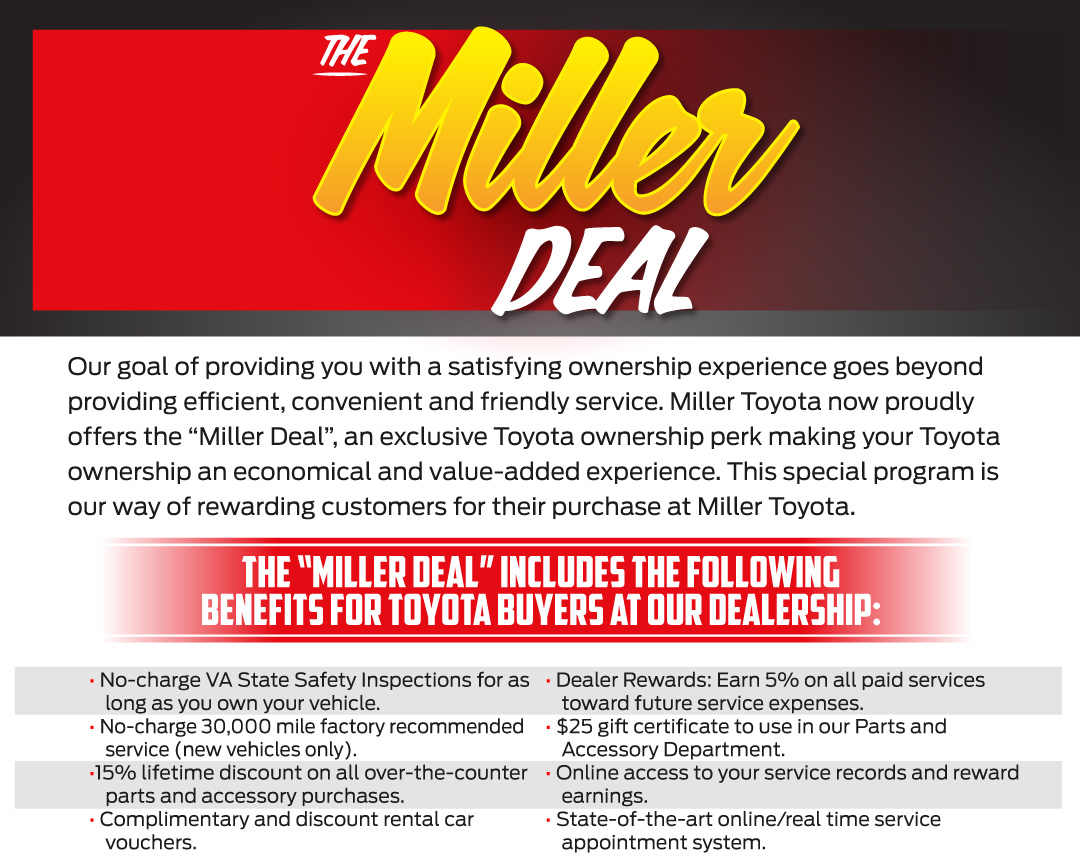 Our goal of providing you with a satisfying ownership experience goes beyond providing efficient, convenient, and friendly service. Miller Toyota now proudly offers our exclusive Miller Deal, making your Toyota ownership a more economical and value-added experience. The Miller Deal comes with the purchase of a new Toyota model from our Manassas, VA auto dealership.** The "Miller Deal" program was launched on January 1, 2018.  It offers special "perks of ownership" that can save you money in a variety of ways. This special program is our way of rewarding customers for their purchase at Miller Toyota, and also represents our utmost confidence in the brand we sell. Toyota makes some of the highest quality and most reliable vehicles on the road and Miller Toyota is proud to sell them. If you have any questions about our Miller Deal, feel free to contact us online or call the dealership at 888-223-8108. We're convenient to the Washington D.C., Woodbridge and Bristow areas with our location at 8566 Sudley Road, Manassas, VA 20110.
---
** Vehicle transactions at or below "E-Price/Unlock Price" do not qualify for benefits of "The Miller Deal".
The dealership will complete a Virginia State Safety Inspection on your vehicle at no charge once per calendar year as long as you own the vehicle. Repairs necessary to bring your vehicle into state compliance would be at your discretion and expense. The Plan provides a no-charge 30,000 mile factory service as recommended by Toyota and outlined in your owner's manual for all new vehicles purchased at our dealership. The dealership will not honor the no-charge 30,000 Mile Factory Service if your vehicle has exceeded 35,000 miles. As a Plan owner, you receive a 15% discount from list price on all over-the-counter parts and accessories purchased. Installation may be extra. Discounts cannot be combined with any other coupon offer or discount. Complimentary rental vehicle vouchers can only be used when your vehicle is at the dealership for service. No-charge rental vehicle coupons are for one (1) 24-hour rental period each. Renters must be at least 21 years old and possess a valid driver's license and major credit card. Renter is responsible for any parking tickets, traffic camera or EZ Pass violations during use, and for all gasoline used. Five percent (5%) of qualified purchases are available to be used as "cash" toward future service expenses up to 50% of the total charges per service visit. All pre-tax cash transactions on a repair order made by you in our service department are qualified purchases. Pass-through purchases such as tow bills or payments made on your behalf by warranty or insurance companies do not qualify. Accumulated Dear Rewards expire after two-years of non-activity at Miller Toyota.  All coupons, offers and discounts are applicable only to the vehicle identified by VIN. Offers have no cash or substitution value. Services provided by other sources are not reimbursable under any circumstances. The Plan expires with ownership change.  If you have any questions regarding your previous Elite Customer Care program benefits please contact us at rewards@millertoyota.com.