Leasing The Toyota Highlander
If you're thinking about leasing the Toyota Highlander in Manassas, Virginia, you don't have to look far, because you can make it happen with a low monthly rate here at Miller Toyota. This spacious three-row SUV can adapt to your needs as they change by the day, and it offers a passenger-friendly interior along with a bevy of contemporary tech tools and features. An array of apps and upgrades provides onboard amusement to keep the whole cabin engaged on long rides, while Toyota also equips the Highlander with advanced safety systems to help you keep a lookout for the unpredictable hazards of the road. Stowing cargo is also a sinch thanks to the Highlander's generous storage space. The SUV maintains its composure whether you're cruising through town or navigating worn and bumpy roadways, and it handles with ease at any speed.
You're encouraged to drop by our dealership to learn more about what the Toyota Highlander can do for you. At Miller Toyota, you can talk with our team of Toyota experts to discover all that this family-friendly vehicle has in store for you and your crew. Our staff can go over all the Highlander's options and trims, and we'll help you find the right vehicle with the right plan for your situation at our Toyota dealership in Manassas. Our mission is to help you find what you need for a price you will feel great about, and you might even be surprised by how affordable it is to drive home in the Toyota Highlander.
What's the Difference Between Leasing and Buying?
The big difference between leasing a car and buying it is where ownership of the vehicle goes. If you buy a vehicle, you can finance it and make monthly payments until the auto loan is paid off. Since that vehicle is all yours, you can drive it as far as you want for as long as you want. When you lease a vehicle, the dealership retains ownership, and there are typically parameters set for the mileage and wear is can amass during the lease period. Payments made during a lease don't go toward purchasing the vehicle. They instead cover the vehicle's value depreciation for the time that you drive it. That generally leads to easy savings if you're looking for a way to drive a model like the Highlander with no long-term commitment.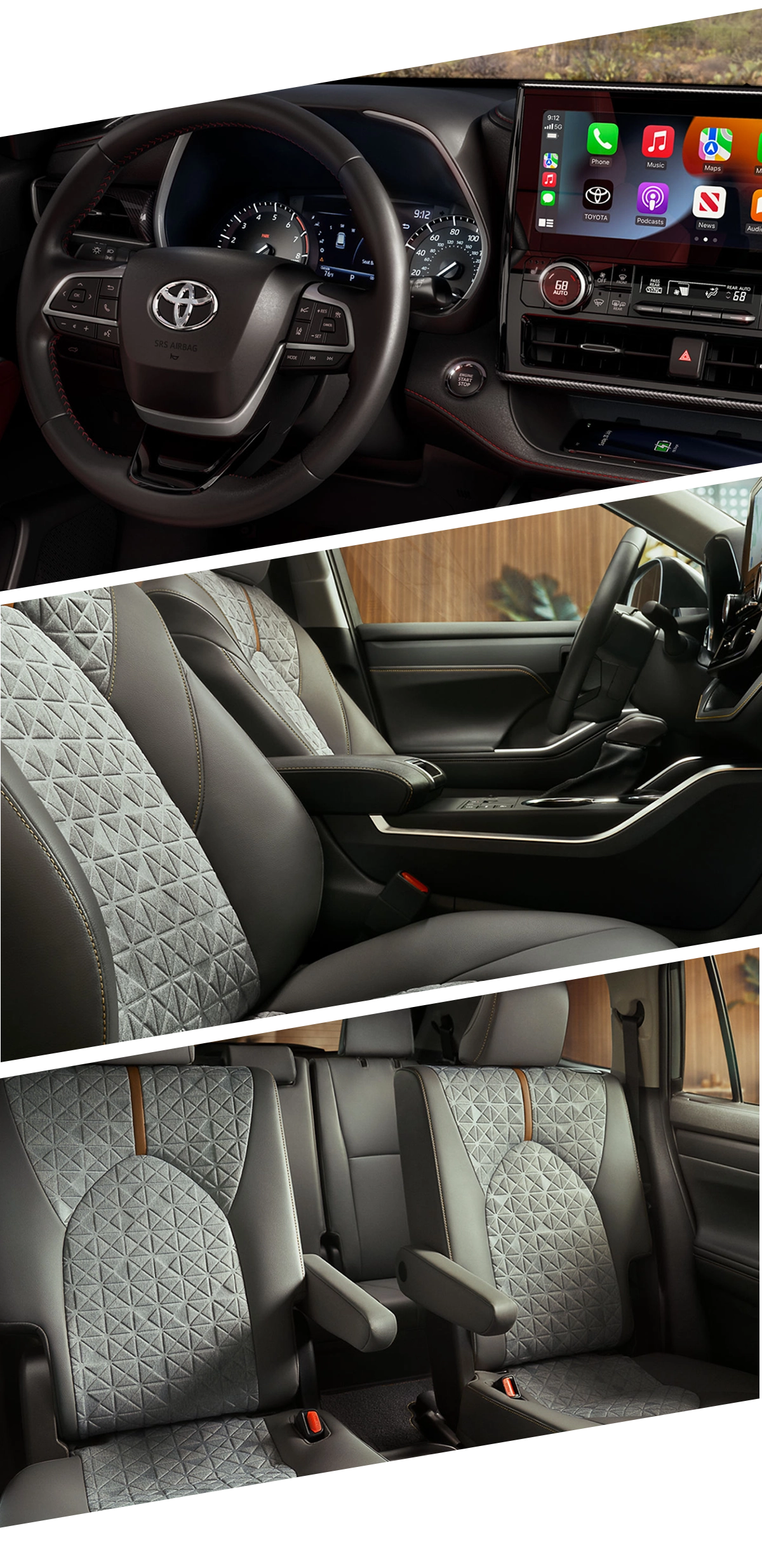 Benefits of Leasing the Toyota Highlander
No matter what vehicle or plan you choose, we'll help you make the most of it at Miller Toyota. If a convenient lease sounds good to you, our team can walk you through the process and make sure you approve of the terms. We know of some great reasons why drivers choose to lease vehicles like the Highlander, so consider these leasing benefits:
Lease agreements usually come with lower monthly payments than auto loans.


Because you're paying less to lease, you can explore the trim range with ease and enjoy upper trim levels like the Highlander Platinum with heated second-row seats and a panoramic moonroof.


The leasing process is simple and clear, and we'll communicate with you through every step to make sure you're comfortable with the monthly rate and terms.


Because the dealership will keep ownership of the SUV, you won't have to deal with trading it in or trying to resell it for a fair price. Just bring it back to our lot and let us help you find the next model that appeals to you.


If you love driving the Highlander, you can opt for a longer lease period to spend more time with it. If you want to try new models as often as possible, consider a shorter lease agreement.
Lease the Highlander at Miller Toyota
Still not sure whether buying or leasing is better for you? Let us help you weigh your options and make the right choice here at our Toyota dealership in Manassas. Here at Miller Toyota, our team is standing by to work with your specific situation, and our automotive experts can answer any questions you might have about the Highlander or your leasing options. Feel free to contact us today to talk with our team, or head down to our dealership, conveniently located at 8566 Sudley Road, Manassas, Virginia 20110. We look forward to seeing you on the lot soon.