Let's Compare The Tundra to the F-150
Full-size pickup trucks continue to hold sway in a market saturated with smaller options. Even the advent of the compact pickup truck in the United States hasn't affected the full-size segment. There will always be buyers who demand a full-size pickup truck, such as the 2023 Toyota Tundra and the 2023 Ford F-150. There's nothing that can come close to matching their practicality. And in the current era, they are the family vehicle of choice as well.
The 2023 Tundra is based on the third generation of the nameplate that debuted in 2021 as an all-new model. It goes head-to-head with the 2023 F-150, based on the 14th generation of the legendary Ford F-Series.
Which one is ahead in the best full-size pickup truck race? Is it the 2023 Tundra or the 2023 F-150? We'll attempt to answer that question by reviewing the interior, performance, and safety characteristics of the two vehicles in this Toyota vs. Ford matchup. And if you want to see the new Tundra in the metal, contact the team of Miller Toyota in Manassas, VA.
Interior Comparison
The 2023 Tundra has two cab choices and three bed lengths for maximum customer choice. This is more than the 2023 F-150 offers, and you'll find the cab design of the 2023 Tundra to be sturdier and more resilient. That's not to say it isn't luxurious, as Toyota has endowed it with soft-touch materials and leather seats on higher trims. Venturing up the trim ladder also grants you amenities such as dual-zone climate control, powered and heated front seats, and some nifty storage solutions within the cabin.
Every 2023 Tundra and 2023 F-150 come with Apple CarPlay® and Android Auto™ as standard, controlled by an 8-inch touch screen on lower trims. While the upgraded offering on the 2023 F-150 is a 12-inch unit, the 2023 Tundra bests it with a class-leading, horizontally-oriented 14-inch touch screen. This is akin to what you'd find in a luxury sedan or SUV, not a pickup truck. There's also a 12.3-inch digital instrument cluster on the top trims of the 2023 Tundra.
2023 Toyota Tundra Interior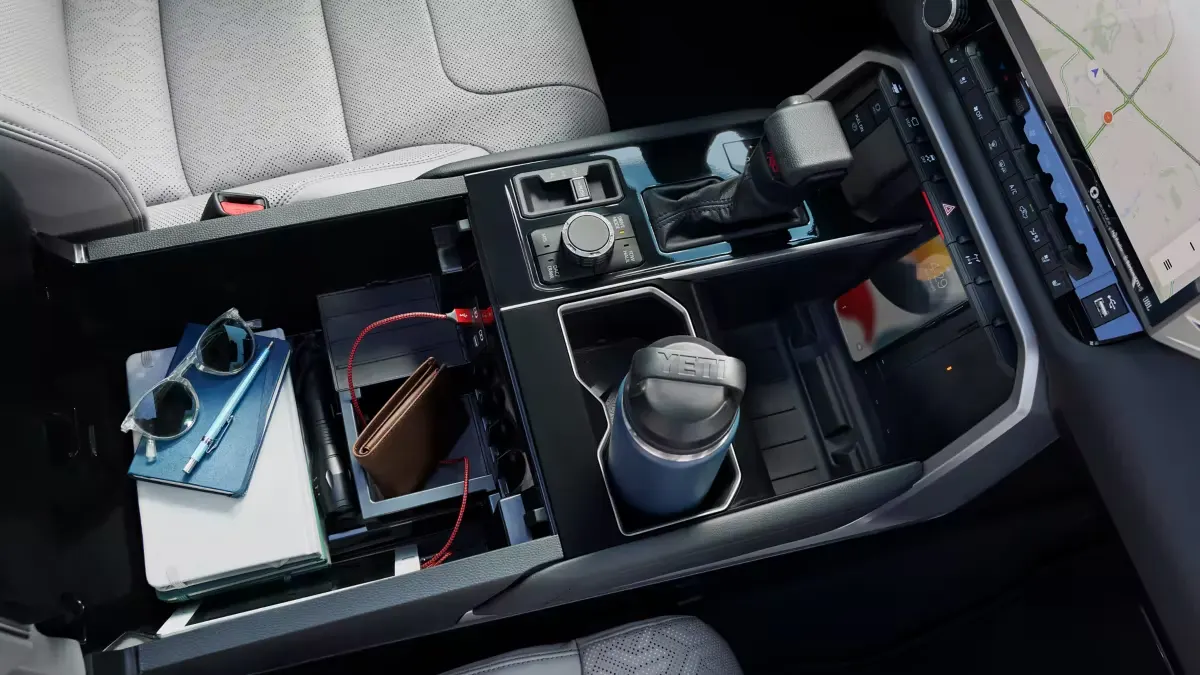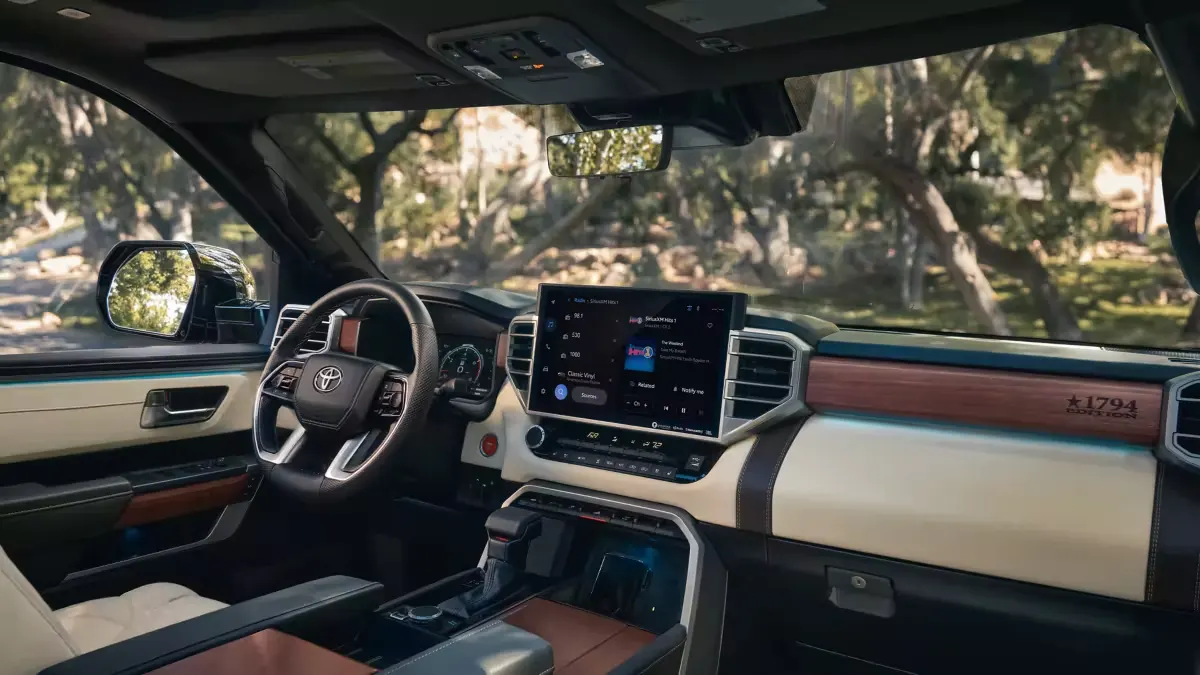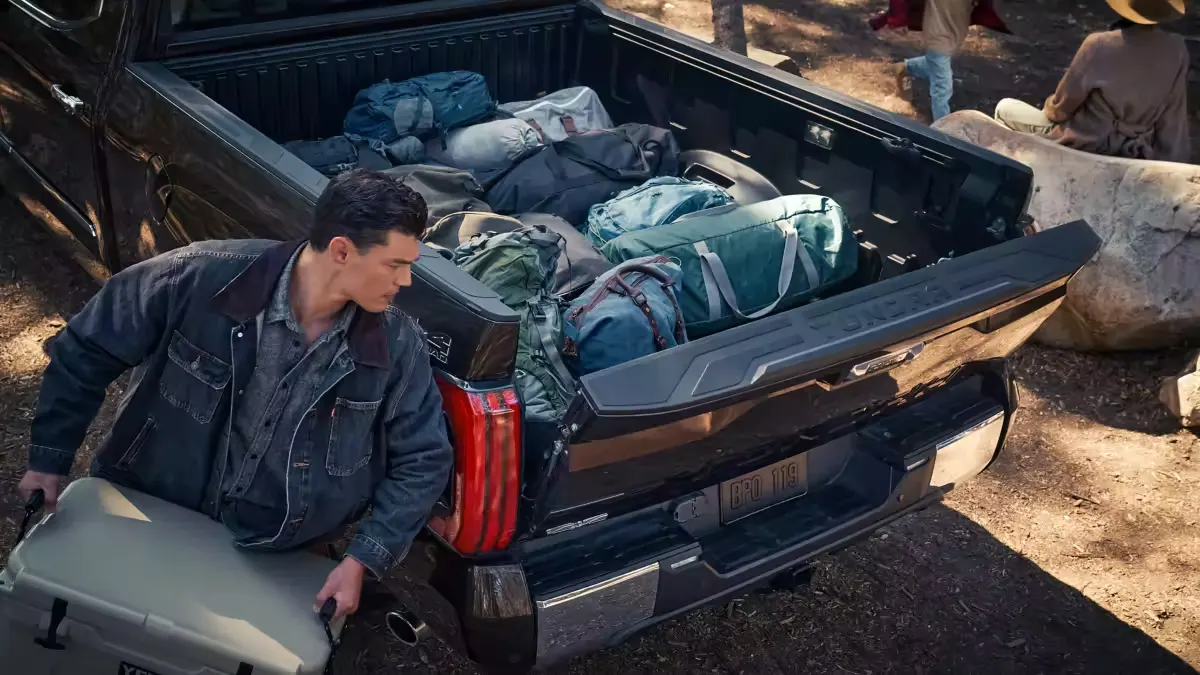 2023 Ford F-150 Interior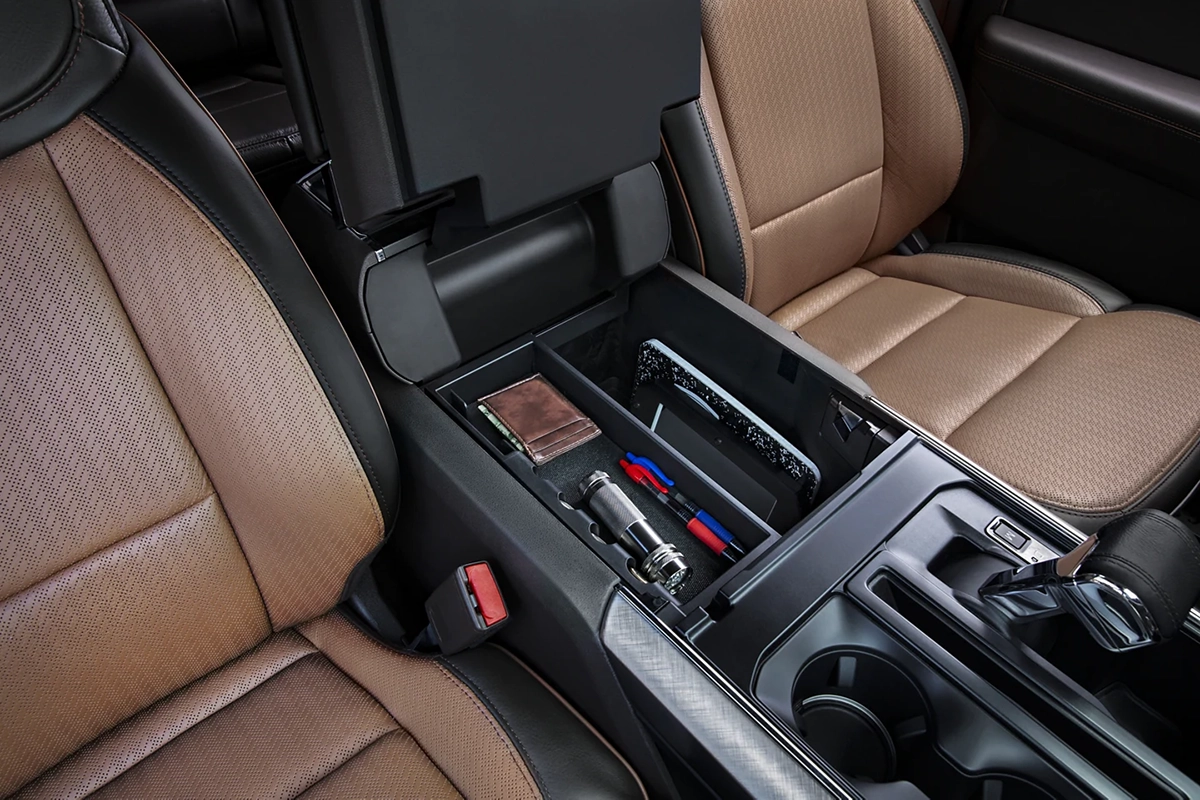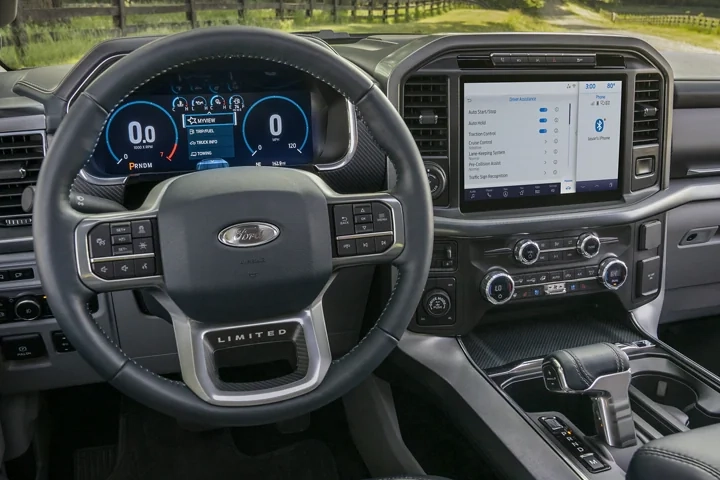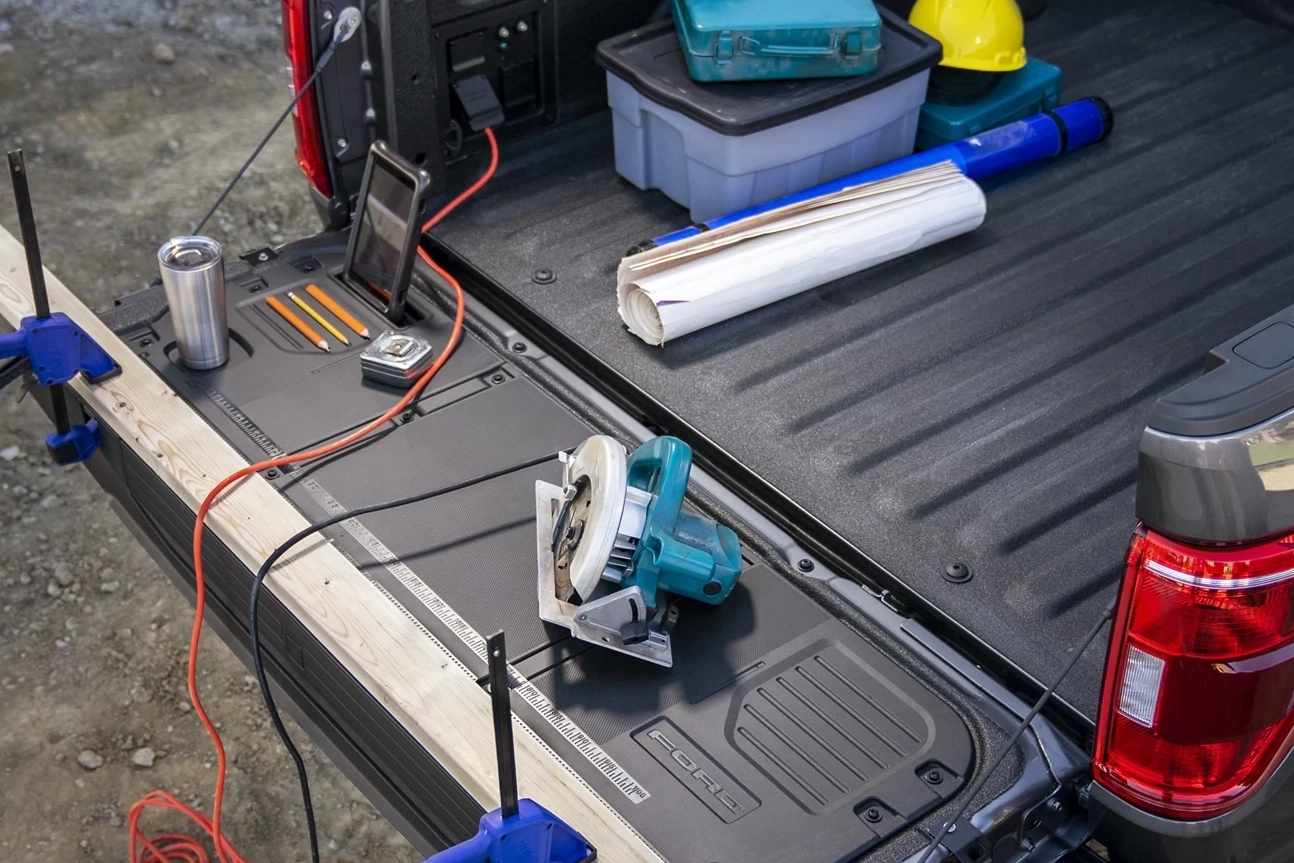 Performance Comparison
Toyota has taken the bold step of not offering a V8 on the 2023 Tundra full-size pickup truck. Instead, it's installed a powerful, fuel-efficient, 3.5-liter twin-turbo V6 beneath its hood. Base trims receive 348 horsepower, while higher trims avail themselves of 389 horsepower. There's also a hybrid variant that adds a transmission-integrated electric motor for a system total of 437 horsepower.
A 10-speed automatic gearbox is standard on all 2023 Tundra variants. A rear-wheel drive is the norm, but you'll find an all-wheel-drive system on offer. This is standard on the off-road-oriented TRD Pro variant, which comes with lifted suspension, special dampers, and off-road wheels, among other goodies.
The 2023 F-150 comes with a 290-horsepower, 3.3-liter V6, a 325-horsepower, twin-turbocharged 2.7-liter V6, a 400-horsepower, twin-turbocharged 3.5-liter V6, a 5.0-liter Coyote V8 with 400 horsepower, a 250-horsepower, turbodiesel V6, and a 400-horsepower hybrid variant. Buyers will undoubtedly find it confusing to pick a powertrain with so many choices. A 10-speed automatic gearbox and rear-wheel-drive are standard, with an all-wheel-drive system offered as an option.
Safety Features Comparison
The 2023 Tundra and the 2023 F-150 come with standard safety features that weren't seen in the segment 10 years ago. They've both got airbags, stability control, automatic emergency braking with pedestrian detection, lane departure warning, and lane-keeping assist. Also standard on the 2023 Tundra are adaptive cruise control and blind-spot monitoring.
Find the 2023 Tundra in Manassas, VA
The 2023 F-150 is no longer the daddy of full-size pickup trucks, as the 2023 Tundra beats it in every metric we've evaluated them on. It is our pick in this Toyota vs. Ford comparison. Don't believe us? Come down to Miller Toyota in Manassas, VA, and we'll show you a 2023 Tundra in the metal.