Compare the Tacoma Vs. Ranger in Manassas, VA
Not everyone wants a full-size pickup truck these days. It can be stressful to drive one in crowded urban settings and park in ever-shrinking parking spaces. That's why midsize pickup trucks offer a compelling alternative without too much compromise. Two great options are the 2023 Toyota Tacoma and the 2023 Ford Ranger.
Introduced in 1995, the 2023 Tacoma hails from the third generation of the nameplate, which was facelifted in 2020. The 2023 Ford Ranger calls from the T6 variant that debuted in 2019. Both trucks come from legendary automakers. Which one is ahead in the best midsize pickup truck race? We'll review their interior, performance, and safety characteristics in this Toyota vs. Ford comparison. If you want a closer look at the new Tacoma, contact the sales team of Miller Toyota in Manassas, VA.
Interior Comparison
The 2023 Tacoma and the 2023 Ranger can seat up to five adults, depending on the cab size selection. They also offer two choices of bed length for customers to pick from. The 2023 Tacoma gives you 100 cubic feet of cabin space in its roomiest iteration, while the 2023 Ranger only offers 95 cubic feet. The difference is notable, with the 2023 Tacoma feeling roomier and airier.
The 2023 Tacoma also comes with a touch-screen infotainment system across all trim levels, which isn't the case with the 2023 Ranger. Notably, you can't have Apple CarPlay® and Android Auto™ on specific 2023 Ranger variants, while it's standard on every 2023 Tacoma. The 2023 Tacoma also offers a powered driver seat, dual-zone climate control, a wireless charging pad, and extra charging ports as options.
2023 Toyota Tacoma Interior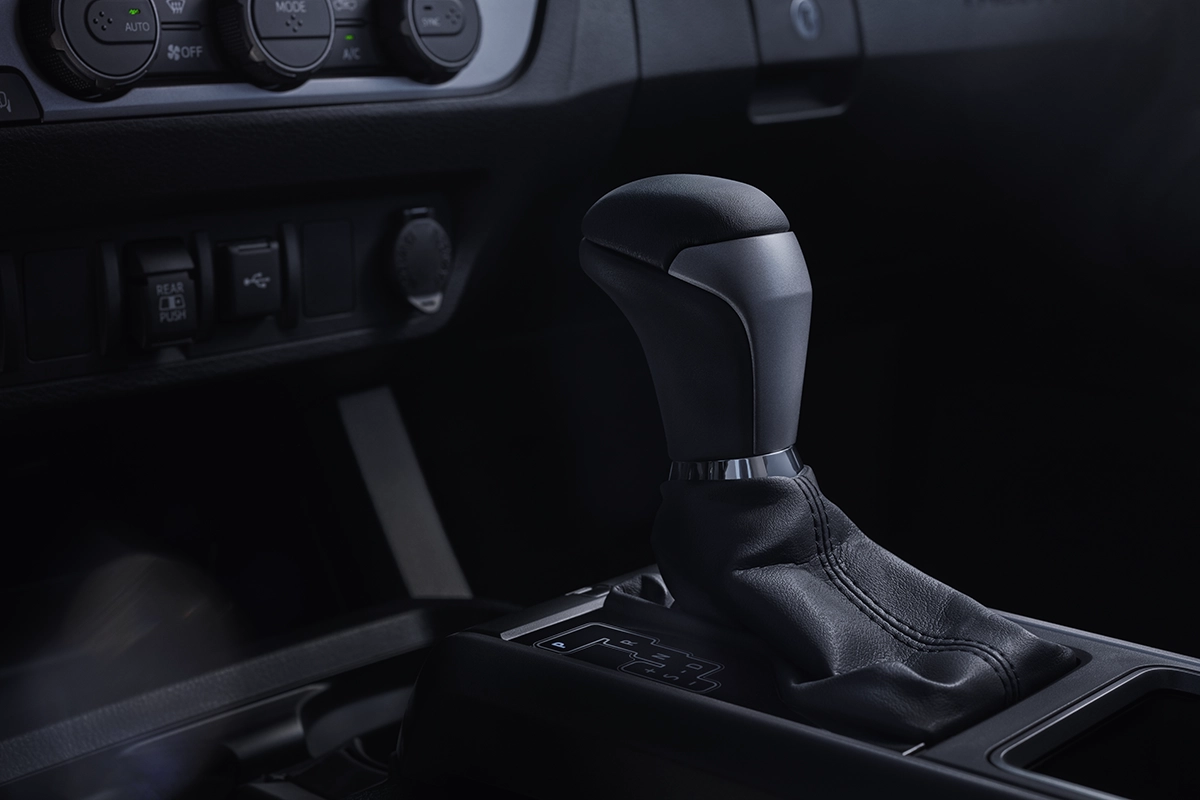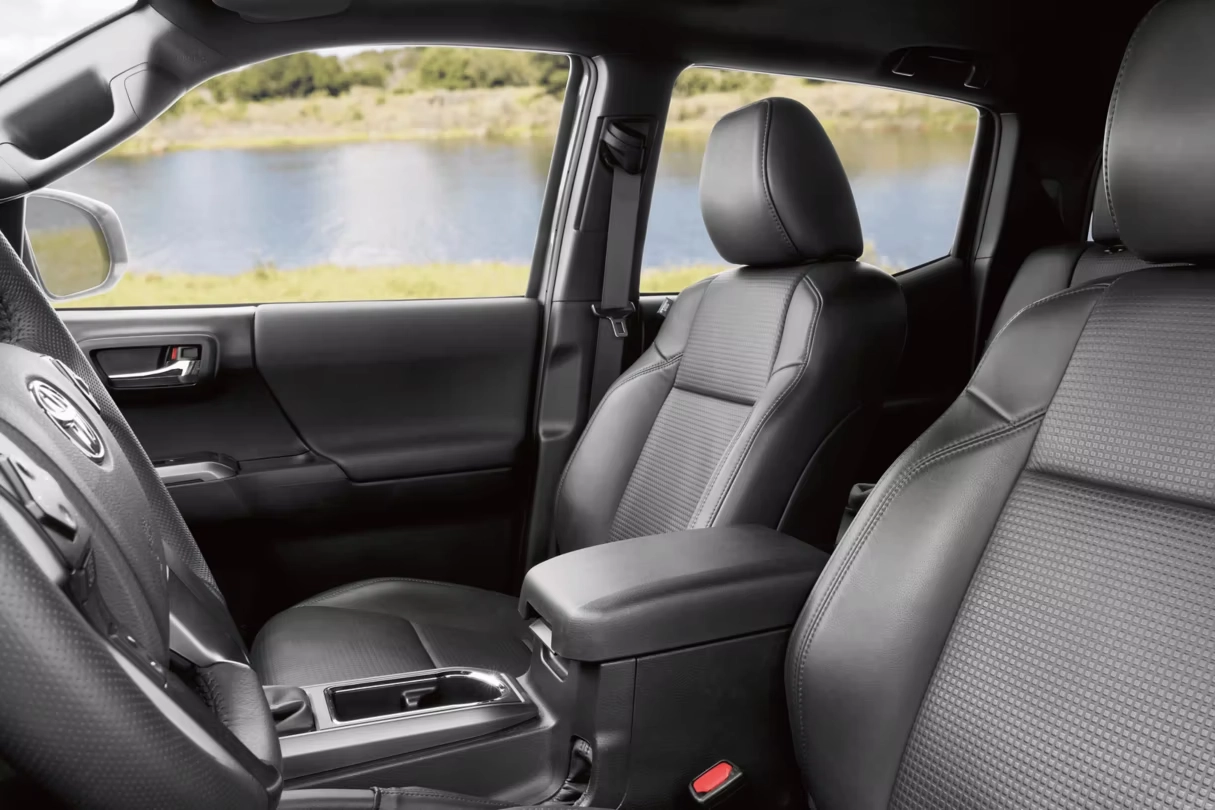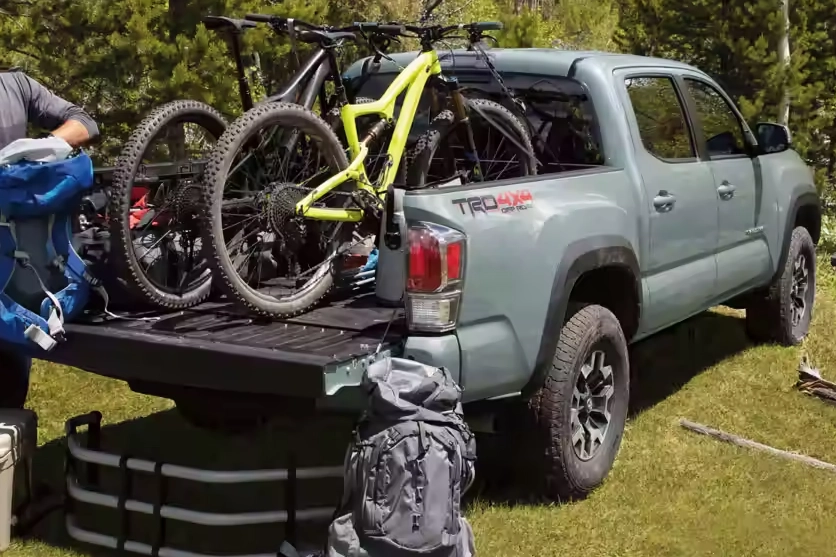 2023 Ford Ranger Interior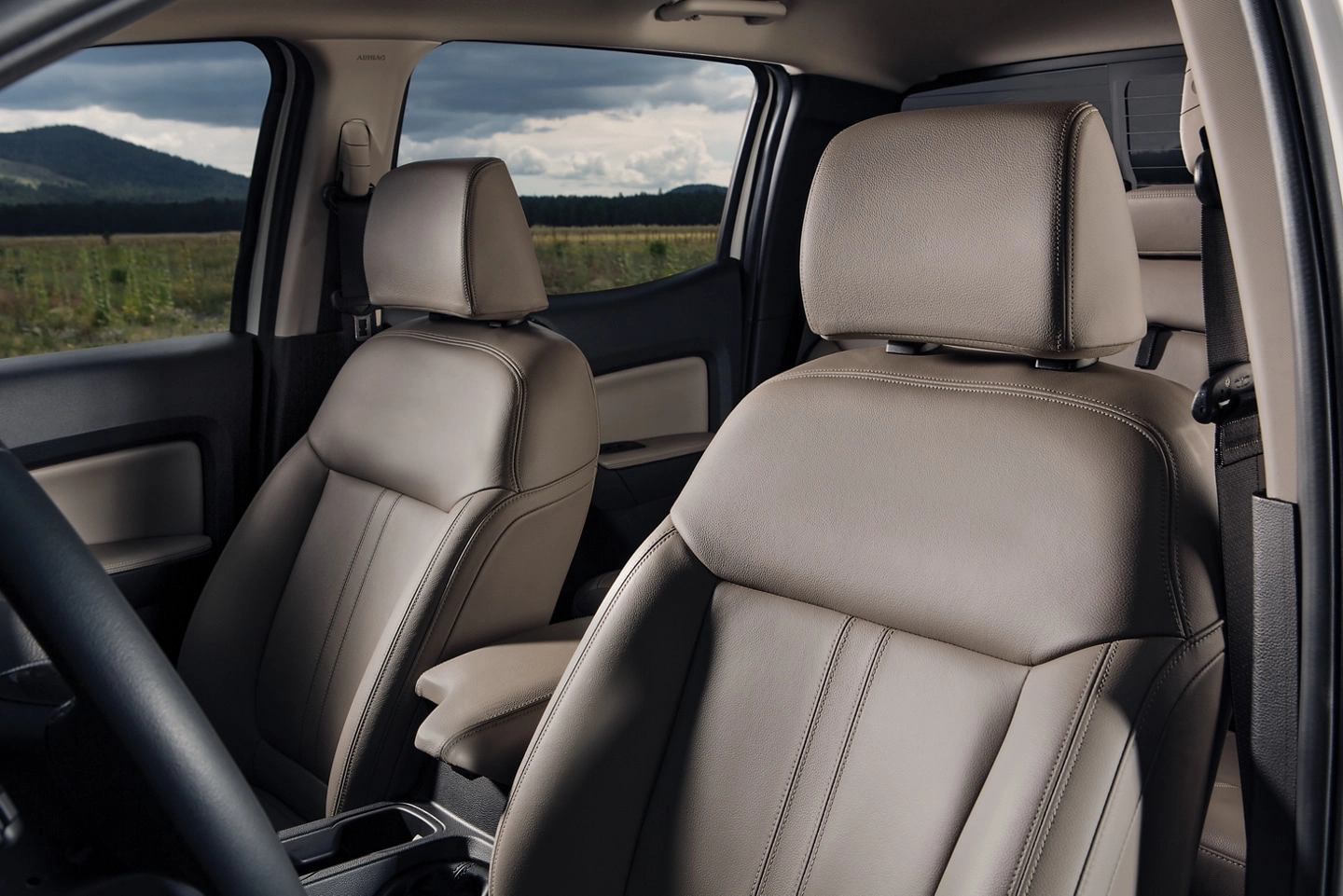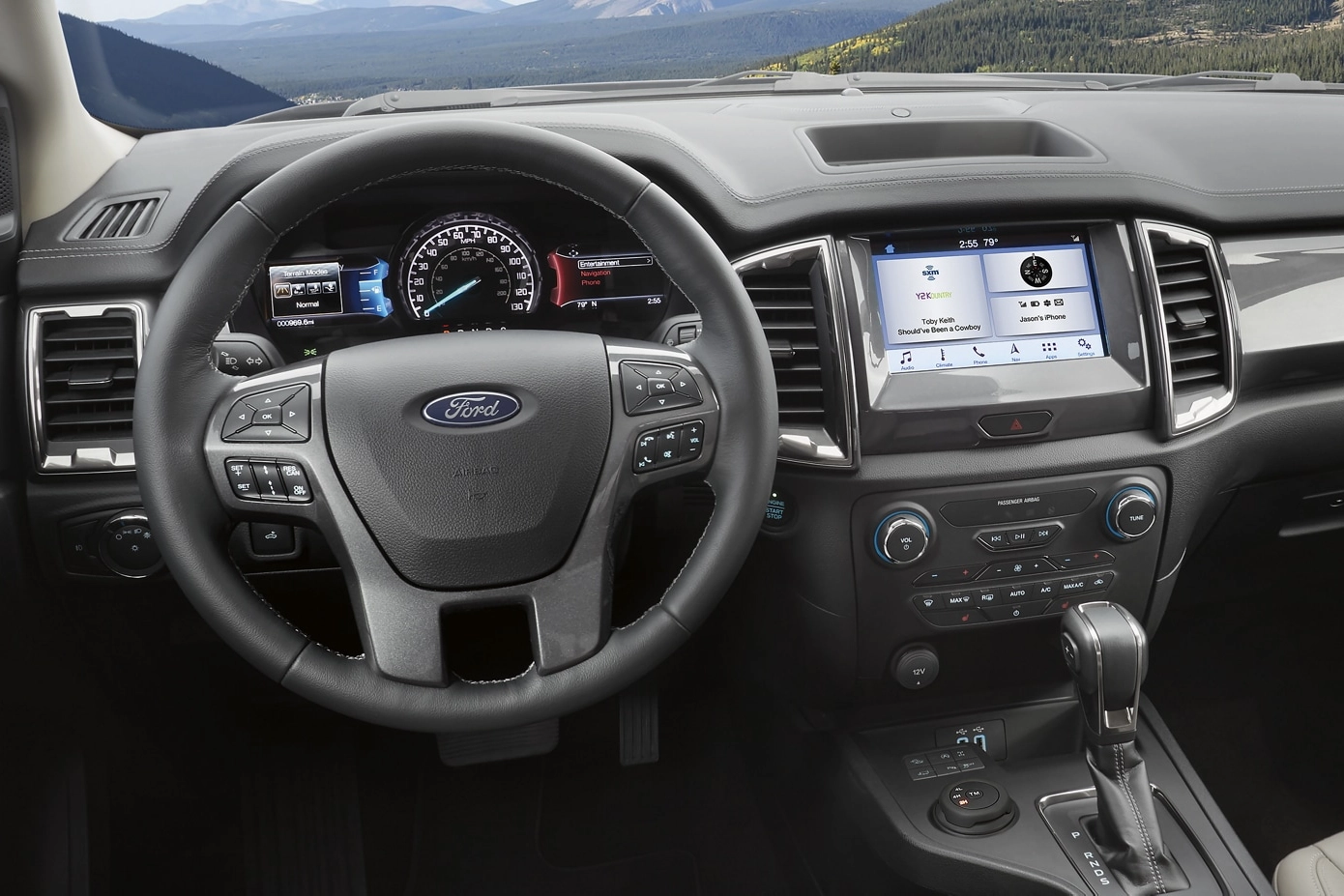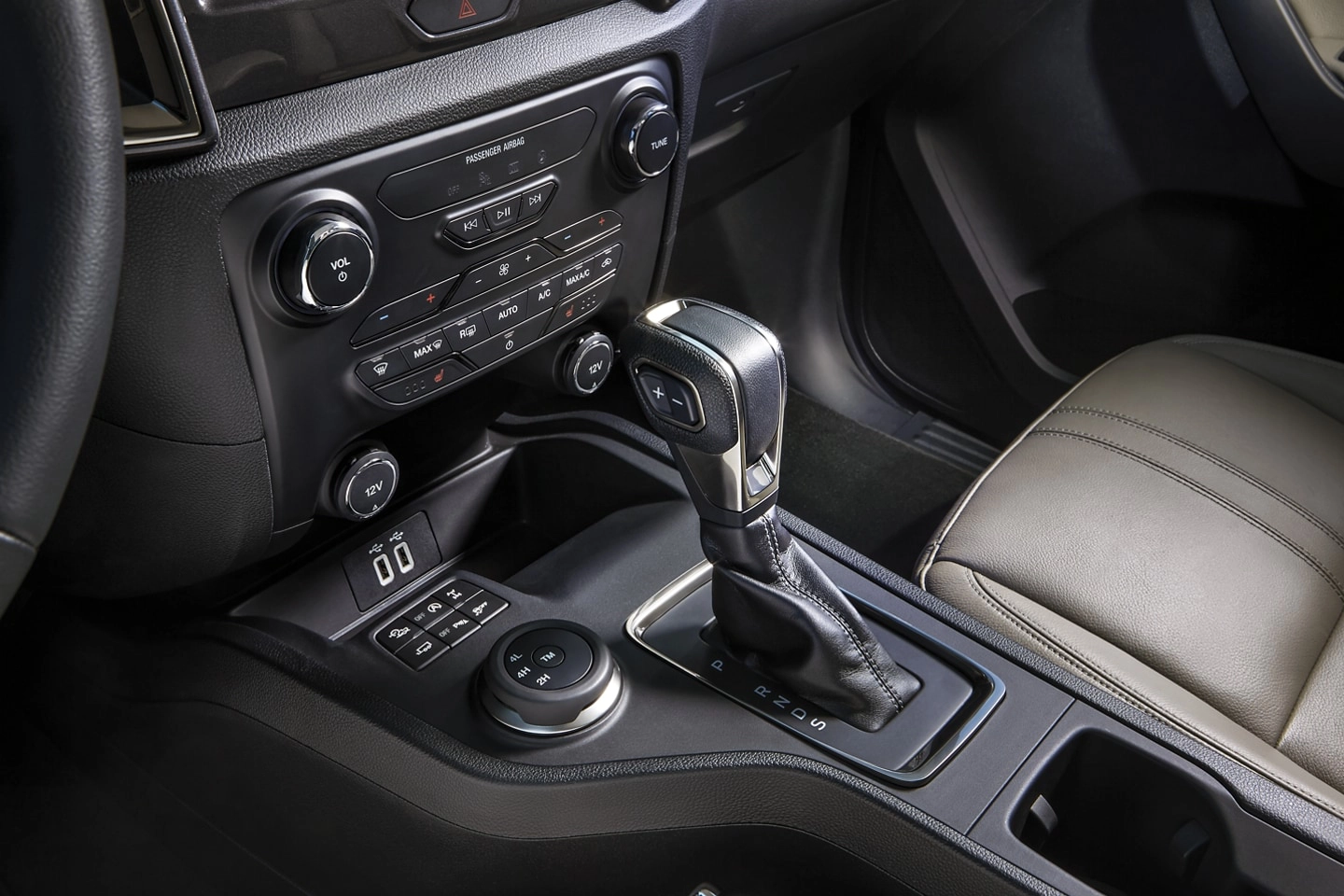 Performance Comparison
Toyota offers two powertrains for the 2023 Tacoma. The base offering is a 2.7-liter 4-cylinder naturally aspirated engine with 159 horsepower. While this may seem low, this engine will undoubtedly last for decades, thanks to its unstressed nature. You can have it with a five-speed manual or a six-speed automatic transmission. Rear-wheel-drive is standard, but an all-wheel-drive system is optional.
The upgraded powertrain is a 3.5-liter V6 with 276 horsepower and a choice between a six-speed manual or six-speed automatic transmission. Once again, rear-wheel-drive is standard, but an all-wheel-drive system is optional. Two TRD trim levels offer better off-roading prowess, as they include the all-wheel-drive system as standard, plus beefier suspension, an increased ride height, and special wheels with off-road tires.
The 2023 Ranger offers a 2.3-liter turbocharged 4-cylinder with 270 horsepower, coupled with a 10-speed automatic transmission and driving the rear wheels. You can also opt for an all-wheel-drive system. Naturally, the engine's reduced displacement and higher output result in a harder-working unit. We are not sure it will be as long-lasting as Toyota's venerable engines.
Safety Features Comparison
The 2023 Tacoma and the 2023 Ranger offer automatic emergency braking, forward collision warning, airbags, stability control, and daytime running lamps as standard. Also standard on the 2023 Tacoma are lane-departure warning and cruise control. These can be optioned on the 2023 Ranger.
Find the 2023 Tacoma in Manassas, VA
You can't go wrong with the 2023 Tacoma; it's our pick in this Toyota vs. Ford matchup. So swing by Miller Toyota in Manassas, VA, today and test drive the new Tacoma.