Satisfy Your Cravings With These Fall Casserole Recipes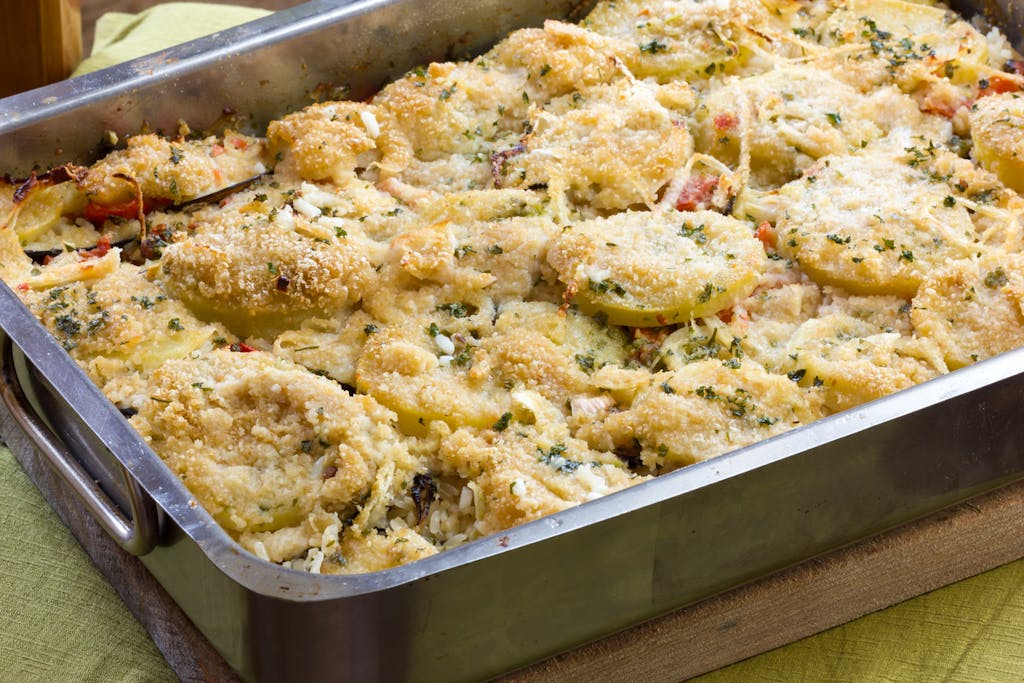 Casseroles are a go-to comfort food staple, and if you're looking for some new dishes to bake this season, try any of these flavorful fall recipes.
Squash Casserole
Across the U.S., cooking in-season means incorporating colorful gourds into your recipes, and it's not all about pumpkin. Squash makes a wonderful addition to a creamy casserole, especially the readily available yellow squash. While your oven preheats to 350 F, cook the squash with garlic and chopped onion in butter, letting them tenderize on the stovetop. Set them aside as you make the creamy mixture, which requires milk, cream of mushroom soup, egg, and cheese. You'll then need to top it with crackers and bake it all together.
Hasselback Potato Gratin
There are seemingly endless ways to cook potatoes, and the hasselback method ensures a delightfully crispy crust as well as a soft and tender center. The idea is to cut thin slices into each potato without cutting all the way through, and many cooks will put chopsticks on either side to stop the knife at the right place. You'll also need to brown onions in olive oil before mixing them with cream, garlic, parmesan, Gruyere, thyme, and rosemary in a baking dish. Next, add the potatoes to the mix, then pour the creamy mix overtop. Try to pour some of that cream into the hasselback slices, and remember you can always insert extra herbs directly for more flavor. The casserole will need to bake at 350 F under foil for up to an hour.
Cauliflower Mac 'n' Cheese
When you're in the mood for some comfort food, nothing satisfies like mac 'n' cheese, and this casserole variation is great way to expand on the classic preparation. Start by preheating the oven to 350 F, then oil your baking dish while the pasta cooks on the stovetop. In a large pot, cook the cauliflower with onion and garlic until tender, then add water to simmer for 10 minutes more. You'll need a blender to combine the cauliflower with cheese, mustard, and even cayenne if you want a little heat. Once it's all pureed smooth, combine it with the pasta in a baking dish, top with panko, then bake for up to 16 minutes.
You might also like: Check Out These 10 Car Cleaning Hacks
Miller Toyota
Hungry for a new ride? Come see what we have waiting for you at Miller Toyota!
Back to Parent Page