Ditch The Oven For Easy No-Cook Summer Meals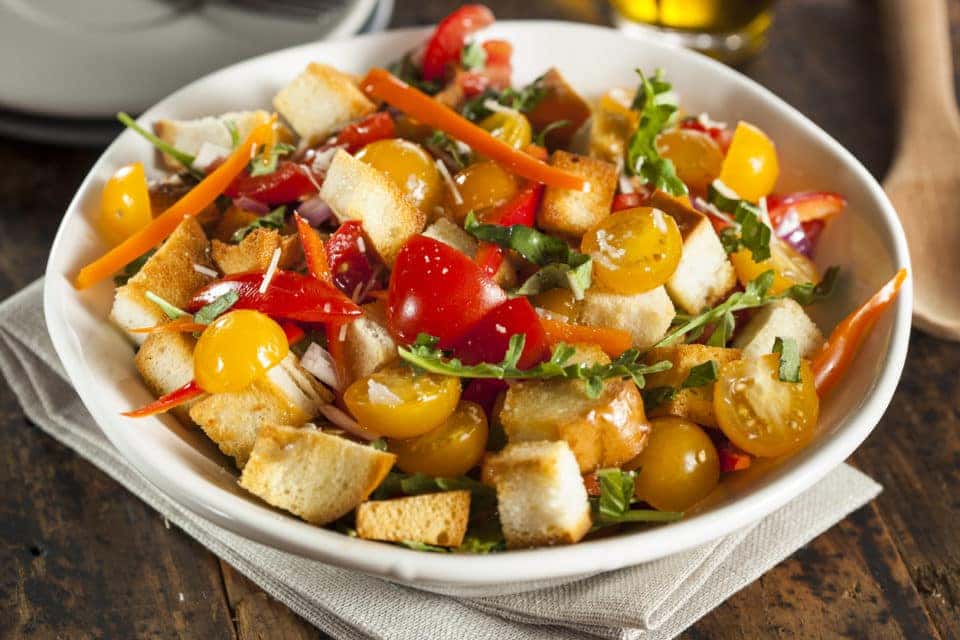 The time is quickly approaching where it's simply too hot to turn on the oven, but dinner still needs to be made. What should you do? Whip up one of these easy no-cook summer meals!
What is Panzanella? It's a Tuscan salad made from chunks of bread, onions, tomatoes, olive oil, and vinegar. Traditionally, Panzanella was created to use up stale bread as the cubes of bread in the salad soak up the oil and vinegar and soften, but you can use regular bread and lightly toast it (or leave it out overnight). The best part about Panzanella is that you don't have to follow a specific recipe, toss whatever you have (such as cherry tomatoes, avocado, and shallots) with your favorite vinegar, olive oil, and bread.
Continuing with the tomato and bread theme is tomato toast. This tomato toast recipe dresses slices of thick bread (try sourdough!) and tomatoes with mayonnaise, garlic, lemon juice, chives, sesame seeds, flaky salt, pepper, Aleppo pepper, and olive oil. While the bread is toasting, mix the mayonnaise, garlic, and lemon juice in a bowl with a generous pinch of kosher salt. Spread the mayo mix over the toast, add your sliced tomatoes, and top to your heart's desire with the rest of the toppings. Dig in and enjoy your oven-free summer dinner!
If you haven't yet discovered the joys of a cold dish filled with gazpacho on a summer evening, it's time you do. Traditional gazpacho calls for tomatoes blended with cucumbers, but this recipe flips the dish on its head and combines cucumbers with radishes, avocados, shallots, pine nuts, microgreens, olive oil, and seasonings. Gazpacho pairs wonderfully with a few slices of crusty bread or sourdough, but you can throw those in the toaster rather than turning on the oven.
You might also like: Enjoy Dine-In Or Take-Out At Foster's Grille
Spice up your weeknights with some Mediterranean flair with these tapenade and hummus-stuffed pita pockets. You'll combine garlic, olives, red bell pepper, olive oil, salt, pepper, and lemon juice in the food processor until it's blitzed into a texture you like, the dress baby arugula with the tapenade. Cut open a pita pocket and spread a couple of tablespoons of hummus along the inside (try making your own with this creamy, easy hummus recipe!), then fill your pockets with the dressed arugula.
Will you be making one of these easy no-cook summer meals this season?
Back to Parent Page