Birthday Cake Pops To Easily Share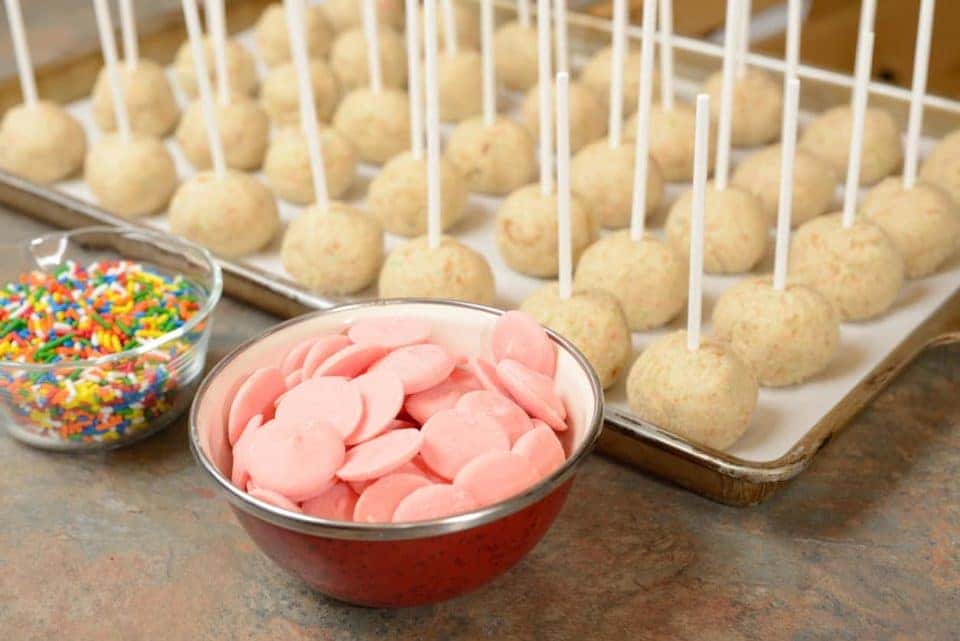 Looking for an individualized dessert that's easy to share? Make cake pops! Though cake pops had their heyday back in the early 2010s, this delicious dessert is still just as yummy and fun to make. Plus it's easy to give everyone their own pop to keep things separated. Grab your apron and mixing bowls and let's get baking!
How to Make Cake Pops
Cake pops are made by crumbling a cake, mixing it with icing, shaping it into balls, and decorating the pops. To make cake balls into cake pops, you'll freeze the cake balls for an hour in the freezer to ensure they don't fall apart when you add the 6-inch lollipop sticks. Dip each lollipop stick into melted candy melts then stick it into the cake ball, freezing the cake pops for another 15 minutes after the sticks are added. After the second chill, you can melt the rest of your candy melts, dip the cake pops, and coat them in sprinkles.
Cake Pop Tips and Tricks
Although cake pops are fairly easy to make, there are a few tips you can use to make the process smoother and your final product a little more polished.
Start small when adding icing to your crumbled cake. Too much icing will cause the cake pops to fall apart, so start with one heaping tablespoon and add more as needed.
Wear gloves when you roll the cake balls. This will keep your hands clean and help you achieve a smoother texture.
Don't skip the sticks. Though leaving these treats in the cake ball phase may seem easier, it will make it much harder to get a smooth outer layer of candy melts.
You might also like: Explore The Toyota Tundra Trim Options
Next Level Cake Pops
Many recipes call for using a box of cake mix and store-bought icing to save on time and ingredients, but if you want to add a gourmet flair to your cake pops you can make the ingredients yourself! You'll want to use a cake recipe that results in a tighter and denser crumb for added structure; this recipe for classic vanilla cake should do just the trick! Almost any icing recipe will work for cake pops, so whether you prefer a classic American buttercream, a Swiss meringue buttercream, or even cream cheese icing, your cake pops will be delicious so long as you don't use too much.
Back to Parent Page